Search Engines are the primary source of traffic to your website – more than 85% of web users employ search engines to find web sites. The majority of them visiting websites listed on the first page. If your website is not listed in top 10 for search engines like Google, you are losing to your competition with every search.
Everything You Need to Supercharge Your Search Engine Rankings!
Starter

Bronze

Silver

Gold

Platinum

Description

Intended for new web
sites to help them get
indexed more quickly
and to jumpstart
their rankings.
For the budget minded
Our most popular
package
An accelerated link
building package for
companies who want
fast results.
The ultimate package
for companies serious
about top rankings.

$299/mo

$499/mo

$699/mo

$999/mo

$1599/mo

Keywords/phrases
15
15
30
50
60
On page Optimization
Up to 3 pages
Up to 5 pages
Up to 7 pages
Up to 10 pages
Up to 30 pages
Keyword rank check
(Updates monthly)
No
Yes
Yes
Yes
Yes
Alt text added to images,
update meta tags and titles
No
Yes
Yes
Yes
Yes
Header Tags Optimized
(H1, H2 etc)
No
Yes
Yes
Yes
Yes

Link Building


Monthly Submissions

Monthly Submissions

Monthly Submissions

Monthly Submissions

Monthly Submissions
Number of unique pages
on your site that
we submit. (Deep linking)
Up to 3
Up to 5
Up to 7
Up to 10
Up to 20
Manual Directory Submissions
100
250
250
250
250
One Way Text Links
30
50
75
100
100
Article Marketing
60
60
75
100
100
Social Bookmarking
20
30
50
60
60
Blog Marketing
20
30
50
60
60
Groups/Forums Marketing
10
15
25
30
30
High PR Backlinks
None
None
20
30
50
Integrated Web 2.0 Marketing
None
None
None
20
50
Social Profile Creation
None
None
None
2
5
Squidoo Lenses
None
None
None
None
2
Estimated Monthly Backlinks
150
200
350
450
500

$299/mo

$499/mo

$699/mo

$999/mo

$1599/mo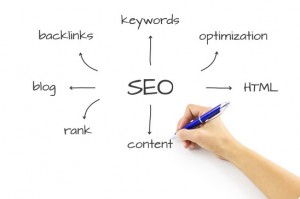 We help make your website relevant, not just to search engines, but also to your users. We help strip out what's not working from your site, and enhance what is. We'll educate you on how to use your site analytics to make smarter decisions that increase search engine rankings and organic traffic to your site. Are we perhaps your new best friend? We should say so.
Once your site has been optimized, we can install monitoring and reporting to keep your site performing well.  In fact, we can set triggers which will notify us of sudden changes in search engine ranking so that our staff can diagnose and respond to the problem.  Our search engine position monitoring, when combined with web analytics gives you the entire picture of your Internet marketing performance.
If you serve a local or regional market, we have methods to make sure you're visible in the local search results.  Geo targeting is essential and relies on several factors when it comes to SEO.
In addition to the organic search results, a large part of the Google screen real estate these days is the local map or "Google Local".  With the increasing emphasis put on local search, making sure you show well on the Google Map is important.  We can optimize your local listing and even monitor it for its relative position.
For more information on our Search Engine Optimization services, please call 414-731-0450 or fill out the form below.
Request more information – Search Engine Optimization (SEO)