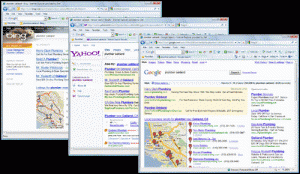 Pay Per Click Advertising is a great way to drive ultra targeted traffic to your website.  With the right keyword phrases driven to a well designed website or landing page, PPC advertising can really increase the effectiveness of your Internet marketing.
The business of online advertising through Google Adwords and Search Alliance – Yahoo Search Marketing (formerly Overture) and Bing (formerly MSN Adcenter) – can not only be complicated and time consuming, but also expensive. It requires a thorough understanding of the intricacies of the very different approaches to pay per click management by Google, Search Alliance (formerly Yahoo and Bing / MSN). We will launch and administer every aspect of your Adwords and Search Alliance (Yahoo / Bing) campaigns so that you reach or exceed your goals faster, easier and more efficiently.
We're Google Adwords Experts
Why is Google Certification important?  By being a Google Adwords Qualified Individual or Google Adwords Qualified Company, it ensures that the professionals working on your campaign have not only passed a certification test, but have managed a real budget.  We've managed hundreds of thousands of dollars in pay per click advertising and have the experience to ensure you are maximizing your Internet Marketing budget.  It's important for you to make sure you're using a certified Google Adwords Consultant for your PPC management.
If you self-manage your own PPC advertising, chances are you are overpaying for your traffic.  Most self-managed campaigns suffer from poor keyword choices, ineffective ads and poorly designed landing pages.  In the case of Google, this results in a low Google Quality Score, which drives up your cost per click.  An Adwords Expert can help with this.  The other top search engines Yahoo, Bing and Ask have similar issues and require an experienced pay per click consultant with the knowledge to navigate the various PPC search engines.  With our Pay Per Click Management service, we can generally pay for our entire consulting fee and save you additional money just by running your pay per click campaign more effectively.  The other benefit of Pay Per Click Management by retaining us to manage your campaign is our experience with conversion optimization, which also increases your conversions, whether it is a phone call, an e-mail or a sale from your website.  Our detailed analytics not only include keyword level conversion data for typical conversions like form submissions and web purchases, we also have Integrated Phone Call Tracking, which allows us to see which keywords drive phone calls.  If you're a service-based business which relies on phone calls, it's the only way to ensure you're spending your Pay Per Click budget wisely.
For more information on our Pay Per Click (PPC) services, please call 414-731-0450 or fill out the form below.
Request more information – Pay Per Click (PPC) Management